Residential Roof and Gutter Services
Upgrade your home and enjoy quality maintenance with Jam Carolina Exteriors. If you have a leaking roof, damaged gutter or other exterior home issue, enjoy award-winning services by your local roofing and gutter expert in Raleigh, Cary and Durham, North Carolina. Learn how roof replacement, repair and replacement gutter services can help you restore your home and protect your assets.
Roof Replacement
A shingle roof typically lasts 10 to 15 years. Steel roofs last longer, but all roofing materials eventually need to be replaced. Asphalt shingles are an affordable and popular option, while steel roofing is durable and lasts significantly longer. It is knowledge and experience such as this, that allows our contractors to assist you in choosing the best roofing material for your home, based on your budget and needs.
Our experts are happy to inspect your roof to determine whether you need a repair or replacement service. Typically, after 10 years or significant damage, a roof is ready for a full replacement.
Roof Repair
Don't let a minor leak or missing flashing cause you to replace your entire roof. When your roof still has years of life left, ask about a roof repair service. Patching asphalt shingles, installing flashing or other repair options are affordable and give your roof additional years of quality protection. Schedule an emergency repair service before a small leak causes significant interior damage to your home.
Gutter Replacement
When debris fills your gutters, the excess weight can cause them to bend, break and pull away from your home. See for yourself how our team has restored homes and created beautiful gutter systems to draw water away from your foundation and walkway. We work with quality gutter options to increase your home's value and protect your property. For instance, Seamless powder coated aluminum gutters are the most popular to replace antiquated seamed systems. We can also do copper and other high-end options. Filter can be added to keep debris out such as the Shur Flo System.
Restore Your Home
Contact us today to receive a roof replacement, repair or gutter replacement service in Cary, Raleigh or Durham. Our team at Jam Carolina Exteriors is confident in providing quality solutions that exceed your expectations and help restore your home.
Do you need a new roof?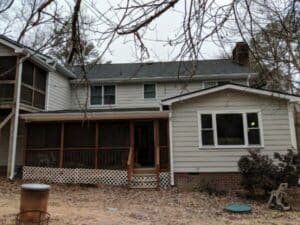 These are some indicators that can determine whether you need a new roof, we made a list of easy to spot signs for homeowners. 
The age of your roof (If your roof is 20+ years old, it might be time for a replacement).
Roofing granules in your gutters or driveway.
Water stains on your ceiling.
Bald spots on your roof from missing granules.
The roof looks shiny in the sunlight.
While these are not the only indicators, these are noticeable signs it is time to replace your roof.